Five foot and six foot wide dimple panels mean:
Better cooling
Fewer plumbing ports
Easier cleaning
Fewer seams
Lower operating cost
Westec's custom dimple machines produces 5-foot and 6-foot wide dimple jackets to maximize the design configurations available for the wine tanks you want. We can build tanks from 10 gallons to 250,000 gallons with tops that are cone-shaped, truncated, floating or open. Westec tank bottoms can be configured as flat, sloped or custom. We offer channel jackets as well as unjacketed stainless wine tanks. Manways available include round, oval, rectangular and heavy-duty. Top doors are available in six sizes and Westec offers racking arms, mixer brackets, screen roller carts and other winery equipment.
Experienced winemakers value Westec's proficiency with tank farm layout because of our start-to-finish engineering of pads, embeds, layout and installation.
Westec does more than build tanks in fields, we repair and retrofit tanks on-site, from any manufacturer.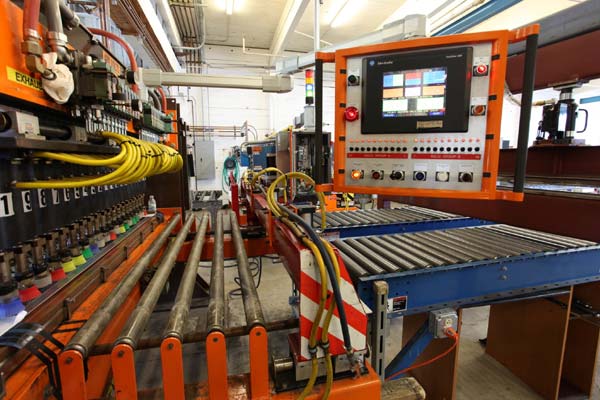 How Clay Mauritson Uses the Basket Tank
"We have been working with the 2 ton basket tanks for over three vintages and they have become an integral part of our high end, small lot winemaking program.
"The basket tanks are completely covered with a glycol jacket for easy and quick chilling and heating. They can be easily moved around in the cellar for optimal location placement.
"We have greatly enjoyed the versatility with which they can be filled: either by direct fill 100% gravity or pumped into over the top. Easy access to the juice because of the interior basket allows for a variety of cap management techniques to be used: manual punchdowns and/or use of any pump type: air pump, Waukesha, centrifugal.
"The interior basket also eliminates any confined space dangers because the forklift directly lifts up the skins held within the basket and then the basket is immediately dumped into the press. We have noticed that you can even eliminate the draining component before pressing by pulling up the basket with the skins and let it drain via gravity back into the tank.
"We have successfully completed native fermentations in these tanks and find the extraction to be on the lighter side allowing us to often include 100% of the press fraction back into the freerun lot thus increasing our yields per ton. The 2 ton size has proven to be extremely useful for awkward sized vineyard blocks when you don't want to throw it into a T bin where temperature can not be controlled. These tanks are awesome. 😊"
Clay Mauritson
Mauriston Wines